We're likely all familiar what Valentine's Day means (unless you are
Arthur Dent
's friend
Ford Prefect
who just arrived on Earth to do research for an entry in
the Hitchhiker's Guide to the Galaxy
), so let's do a science fiction spin on the day of love.
If I was asked to choose my favorite science-fiction-related love story, my selection would be the romance between hotshot pilot
Rick Hunter
and high-ranking officer
Lisa Hayes
from the animated TV series
Robotech
. In a nutshell, the Macross saga is a space opera about giant aliens arriving at Earth to find out their sought-after spaceship is in possession of the humans. The humans, using the ship, try to fold (hyperspace jump) to the Moon but end up near Pluto and must make a long journey back to Earth with the aliens in pursuit.
In the
Macross Saga
, there is a love triangle between Rick, Lisa and singer
Lynn Minmei
, which gives the show depth. Ultimately, Rick marries Lisa.
Below is a fan-made comic panel of Rick proposing to Lisa. You most likely will need to click on the image to read the text.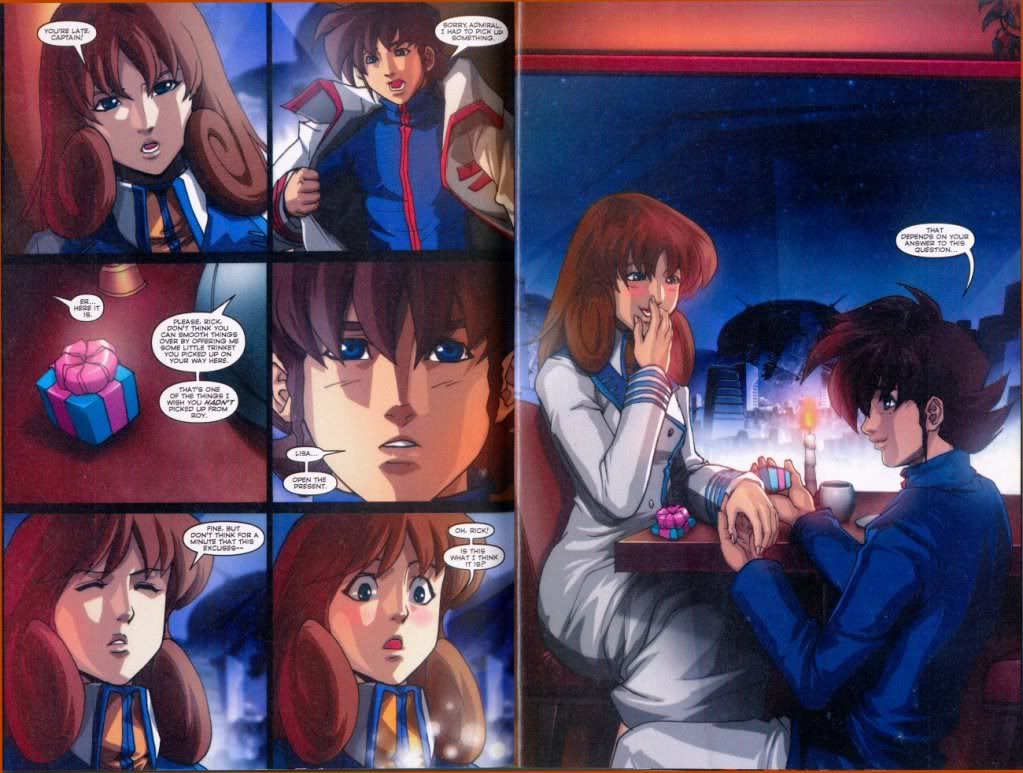 Photo from photobucket.com under username jasonuep.
What is your favorite love story from a science fiction movie, book, TV show, comic book, or any other medium?